Stations
RenewFM owns and operates 1 AM station, 8 full-power FM stations, and 4 FM translator stations. Use the map or list below to find the RenewFM station in your area.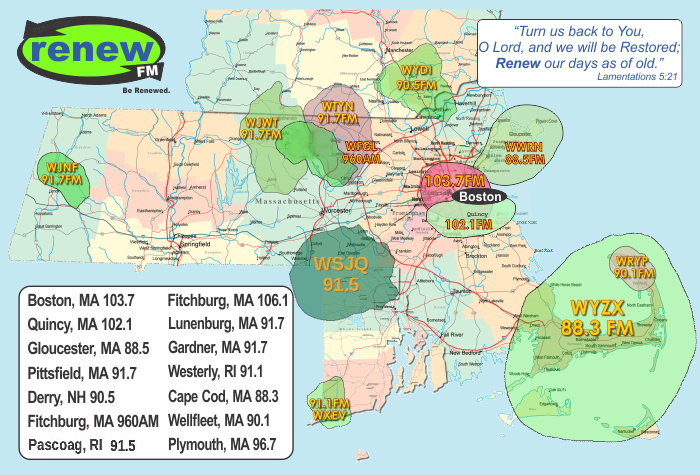 Boston:


W279BQ 103.7 Boston, MA
W271CG 102.1 Quincy, MA
WWRN 88.5 Rockport, MA
(View Schedule)

Cape Cod:


WYZX 88.3 East Falmouth, MA
WRYP 90.1 FM Wellfleet, MA
W244CF 96.7 Plymouth, MA
(View Schedule)

Central Mass:


W291DA 106.1 FM Fitchburg, MA
WFGL 960 AM Fitchburg, MA


WTYN

91.7 FM Lunenburg, MA
WJWT 91.7 FM Gardner, MA
WCMX 1000 AM Leominster, MA (En Español)
(View Schedule)

Western Mass:


WJNF 91.7 FM Pittsfield, MA
(View Schedule)

Rhode Island:


WXEV 91.1 FM Westerly, RI
WSJQ 91.5 FM Pascoag, RI
(View Schedule)

New Hampshire:


WYDI 90.5 FM Derry, NH
(View Schedule)
No stations in your area? No problem! Click here to stream us live online 24/7!
Or take us with you with one of these free apps: We have free apps for your Android and Apple devices and you can also listen with the free apps from TuneIn and NextRadio!
Just search for RenewFM and listen to your favorite RenewFM programming anywhere you are!