History



It took a call from God, one couple willing to leave everything, and one old beat up radio station.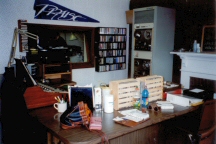 In the early nineties, George Small and his wife, Paula, were living a normal Christian life in San Diego, CA. George had a promising career working as an engineer for Caterpillar, and Paula was enjoying her career as a school teacher. But in 1994, the Smalls couldn't resist God's leading any longer. They were to leave San Diego, CA, stable jobs, and a loving family for an unspecific destination in Massachusetts.
God had placed two passions in George's heart: to plant a church in the greater Boston area, and to assist with Christian radio in New England. The only problem was that George knew nothing about radio. Just weeks before the moving truck was scheduled to pull out, a defunct AM radio station in Fitchburg, MA was donated to Calvary Chapel in Costa Mesa, CA. God had made George and Paula's destination clear: Fitchburg, MA. It would be where the first Calvary Radio Network (formerly CSN) station, WFGL 960 AM, would come to life.
​​In 2005, after years of faithfully striving to fulfill the calling for Christian radio in New England, and now with a healthy church (Horizon Christian Fellowship in Fitchburg), God began a new stirring: FM Christian Radio. Soon after, a radio station on Cape Cod became available. But it was an opportunity bigger than this New England church could undertake. …Or was it?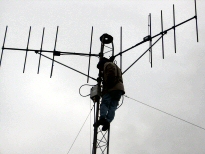 This group of believers knew the impact that 24/7 solid Bible teaching and contemporary Christian music could have on a community. God provided the first $50,000 with perfect and miraculous timing. He arranged schedules, necessary paperwork, and even transported equipment that should have taken days to arrive in just hours! Maybe it WAS too much for this New England church, but it WASN'T too much for God, and by early 2007, most of Cape Cod had Christian FM radio for the first time!
​
By late 2007, with several more stations built and a list of licenses, it was clear God had bigger plans for Christian radio in New England. The window of opportunity to pour the unchanging Gospel message over the airwaves and onto the dry soil of Massachusetts had arrived!
​

And today… well thankfully God is still in the miracle business and we continue to live it here at RenewFM!